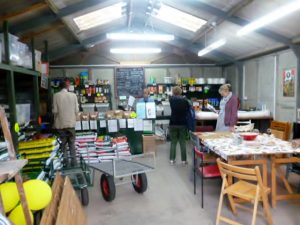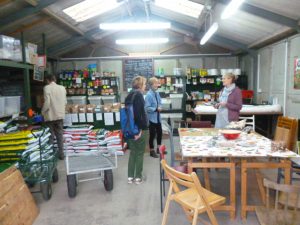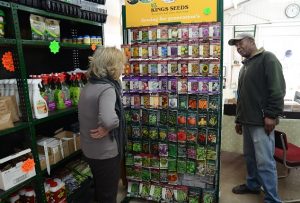 The Store is located on Site 2 (the Pleasance)
"A community hub where members can share gardening experience and purchase competitively priced, environmentally sustainable products".
Contactless card and phone payments now available.
Pay using contactless card or using your mobile phone with Apple Pay or Google Pay.
We can accept Visa, V-Pay, Mastercard, Maestro, Amex, Diners, Discover and Union Pay. Cash is difficult for us to handle and will only be accepted in last resort.
Site 3 Plotholder? Special 'Click and Collect' offers to collect directly from Site 3 are sent round by email when available. Pay in advance required.
A central source for gardening advice and a meeting place, the Store sells a variety of gardening produce, including compost, fertilisers, and pest control. We try to stock environmentally friendly solutions.
The store is manned by RGS Volunteers.
Members of the RGS may order seeds, seed potatoes and seasonal items at a discount, and there are frequently plants, seeds and equipment available for a small donation.
Check the notice board outside the Store for RGS information and events. You can collect your copy of the current Bulletin from the Store.
Store Cafe
Our cafe selling tea and coffee (and usually home- made cake) is usually open on Sundays. (See Opening Hours)
Gardening Products all available at Competitive Prices – Come and browse the Store..