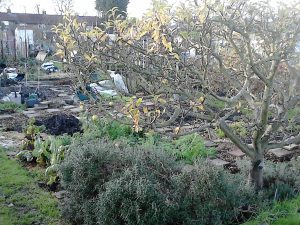 Maintaining soil and structures and planning ahead
As crops are harvested clear debris and cover cleared soil with weed suppressant.
Plan a crop system for vegetables- leaving a minimum of two years before replanting crops in the same place.
Complete winter digging of bare beds and cover the ground to warm beds for early crops.
Open greenhouse vents on mild days
Clean greenhouses, staging, pots and seed-trays for the coming growing season.
Sowing and growing
Apply winter washes to fruit trees to control overwintering pests.
Start 'chitting' tubers of early potatoes in trays in a cool, light, frost-free location.
Sow broad beans in pots under cover.
Sow winter salads in a greenhouse or windowsill.
Sow summer brassicas and spinach on a windowsill to plant out in late February.
Aubergines can be sown under cover on a sunny windowsill from late January.
Bring potted runners of strawberries under glass for forcing.
Sow later sweet peas now and pot on autumn-sown sweet peas, pinching out the tip after 4 pairs of leaves have developed or when plants have reached 3.5 cms. Place on a sunny windowsill, in a cold frame or greenhouse.
Ensure brassicas are protected against pigeons by netting.
Begin forcing rhubarb for an early crop by placing a bucket or forcing jar over the crop.
Harvesting
Harvest parsnip, swede, sprouting broccoli, Brussels sprouts, leek and turnip.
Pruning
Prune overgrown blackcurrant bushes- remove a third of the old, weak or unproductive stems to ground level to encourage new basal shoots.
Prune freestanding apples and pears, maintaining an open centre. Do not remove more than 20% of the crown in one winter
Prune gooseberries, redcurrants and whitecurrants by removing dead wood and low lying shoots. Prune last year's growth of the main stems by about a half. Prune all side-shoots back to one to three buds from their bases.
Prune grapevines before mid January.
Gardening for wildlife
Regularly replenish bird feeders.
Clear out bird boxes by removing old nests and rinse out boxes.