We are selling Dahlia tubers this year on trial basis. These will be available to buy at the Store on Site 2 from April 2 at £2 per tuber. We have 4 colours/types to chose from: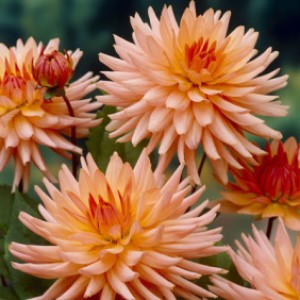 PREFERENCE: pure salmon flowers, height 1 metre.
AMBITION: bright purple flowers, height 1 metre.
RED RUNNER: scarlet red blooms with a crimson hint, height 80-90cm.
DARK SPIRIT: a pompom variety, with round dark burgundy flowers, height 1 metre.
Dahlia tubers can be planted 10cms deep, spaced 45cms apart, in fertile, well drained soil outdoors from April when the soil has warmed up and the risk of frost has passed.
Dahlias can be dug up and stored in a cool place over winter, or kept protected in the soil.
Apply a high potash fertiliser every few weeks in the Summer to promote growth and deadhead regularly.
As this is a trial, we have only bought a limited number of tubers, so do come to the Store soon if you are interested in buying these.
Gill Tamsett – Trading Secretary